Those of you interested in the RealFevr token sale, what better way to get to know the RealFevr fantasy platform than by playing it during the World Cup!
So we thought we would try something a bit different, it works like this:
– Already a RealFevr user? Simply whitelist with the same email at realfevr.io
– Already whitelisted? Just register with the same email on realfevr.com, or download the iOS or Android App and register there
– Launch RealFevr, create your World Fantasy team, after a while your team will automatically be part of the FevrCoin League
– Follow the World Cup for your chance to share in the prize pool (see below)
– You can build a total of 5 different World Fantasy teams with the same account, which will greatly increase your chances to win
– The Season winners will be announced at the end of the World Cup in July. Gameweek, Group, and Knockout phase winners will be announced as they happen.
We will have winners for every Gameweek, for Group and Knockout Stages, and the overall winners at the end of the season. Have a look at the prizes below.
Gameweek Prizes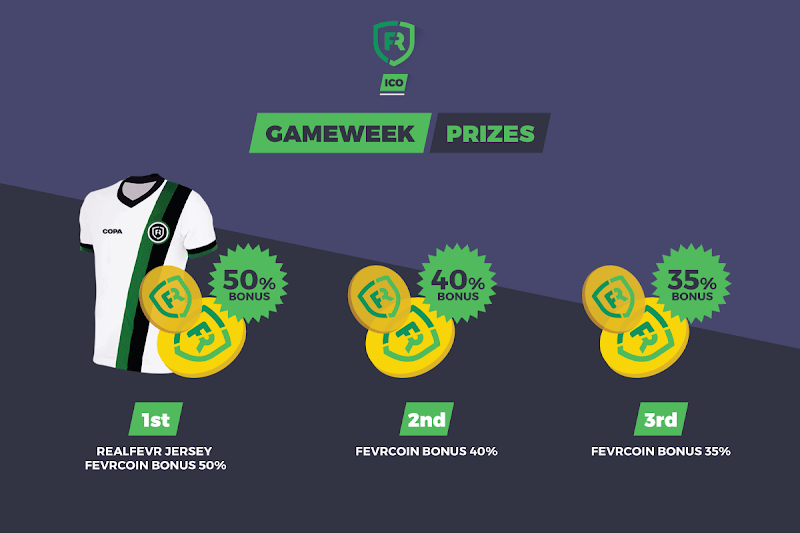 Group Stage & Knock-out Phase Prizes

Season Prizes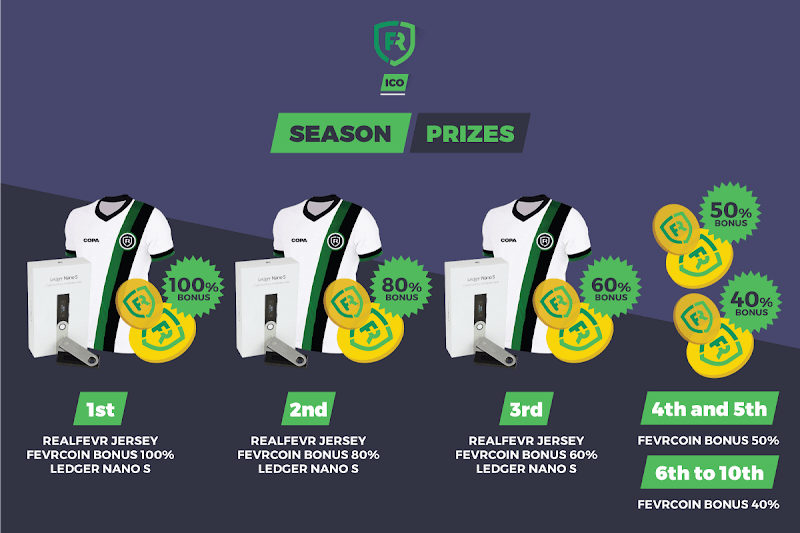 Rules
– Merchandise prizes stack, so if you win 2x Ledger Nano S, you will keep them both
– Bonuses will not stack, but you will be awarded the highest bonus
– Bonuses not awarded due to stacking will be passed forward to the next best performing player
– To be eligible for prizes starting in a given game week/round, you need to create your team at least 1 hour prior to the first game of that round
– Maximum contribution for bonuses is set at $100,000 US
We've already decided 35% will be the maximum bonus level for our private sale, so we think these are some juicy bonuses.
A fun way to engage the RealFevr ICO community within the platform, and have your chance to win a FevrCoin bonus and cool merchandise during the World Cup.
Get started now by whitelisting at realfevr.io, and building your team at RealFevr – let's see who has what it takes to be a football world champion.
Stay Connected
ICO Website: https://www.realfevr.io
Notícias em Português: https://medium.com/realfevrico-brazil
Twitter: https://twitter.com/RealFevr_ICO
Telegram: https://t.me/RealFevrICO
Reddit: https://www.reddit.com/r/RealFevrICO
YouTube: https://www.youtube.com/realfevrTV